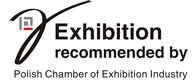 TILL 27th OF JULY WE ARE WAITING FOR REGISTRATION IN GOLD MEDAL COMPETITION AND NEW PRODUCTS
Take care of promoting your products – till 27th we are waiting for registration in gold medal competition and new products. It's worth bragging about your innovative solutions and new products on the market. Therefore, do not hesitate and take part in the Gold Medal Competition as well as submit your premiere products. The International Trade Fair of Machines and Tools for the Wood and Furniture Industries DREMA is an excellent opportunity to present the latest achievements among professionals in the wood and furniture industries.
WE ARE WAITING TILL 27th OF JULY 2018!

Join the group of Gold Medal Competition winners!
Gold Medal is not only a prize, it is a promotion strategy that begins at the Poznań International Fair

Gold Medal of MTP is a recognizable brand

This the most important fair award is an opportunity to promote innovative products on the international arena

Each Laureate receives the Medalist Package with an estimated value of up to 50,000 PLN
Take part in the Competition>>
Why is it worth to enter NEW PRODUCT?
DREMA Fair is a chance to present your own company and its achievements. An attractive form of advertising, both for exhibitors and visitors, are new products and fairs premieres, which the organizers of the fair provide with a wide promotion. We offer free information about new products presented during the fair (products, technologies, services) along with a photo of the presented market premiere.
Information about new products will be presented in a specially dedicated chapter of the catalog - Visitor's Vademecum. Each stand of the Exhibitor presenting new products will be specially marked and easily recognizable to visitors. In addition, information about the premieres will be posted in the magazine DREMA / FURNICA News and on the fair's website.