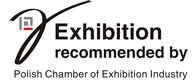 The State Forests invite you to the DREMA 2018 trade fair!
It is at the DREMA International Trade Fair of Machines and Tools for the Wood and Furniture Industries where the State Forests will showcase two exhibitions: "Natural wealth of forests of Subcarpathia and the Bieszczady" as well as "FOREST". At their stand, they will provide information on timber construction at the State Forests. Additionally, visitors will have an opportunity to taste products labeled as "Goods of the Forest" on a selected day.
"Natural wealth of forests in Subcarpathia and the Bieszczady" exhibition
Subcarpathia (Subcarpathia) and the Bieszczady are Poland's south-easternmost regions. Once places witnessing tragic events, today an unusually rich in terms of nature and unique in Central Europe sanctuary of flora and fauna. Small population, wilderness and a possibility of coming across rare species of animals, such as bear, European bison, wolf, lynx or eagle make the forests of Subcarpathia and the Bieszczady particularly attractive for tourism and recreation. Less than two or three centuries ago, due to rapid development of settlements and intensive exploitation of natural resources, the forests shrank significantly in those areas. It was not until the end of the 1940s that conditions were created for the gradual return of forests to agricultural areas abandoned after the Second World War ended and for the increase of forest to over 38% today; the situation we owe to the work of several generations of foresters. The presented photography exhibition by Mateusz Matysiak, showing the diversity and natural wealth of the forests of Subcarpathia and the Bieszczady, is an excellent proof of how rational forest management carried out here is; it is multifunctional, sustainable, conducive to biodiversity, using the forest in such a way that the next generations can fully benefit from its natural and economic values.
"FOREST" exhibition
An exhibition presenting the model of Polish forestry. The exhibition in the form of the inscription FOREST was built of two-meter-high, illuminated letters. Each of them is devoted to a different thematic area related to forests. Thanks to the information provided on the individual letters, it will be possible to find out, among other things, how to obtain and use timber, how to conduct forest education, as well as how to use the forest for recreational purposes. Visitors will also find extraordinary photographs and descriptions of protected species of animals. The exhibition is made up of wood or wood-based materials.
All visitors to the stand of the State Forests will have an opportunity to taste products labeled as "Goods of the Forest," including hams, bacon, tenderloin, sausages, dry sausages, roast meats or pâtés of game meat. Apart from those, pickled mushrooms and preserves from forest fruits such as jam and marmalade from blueberries and cranberries will also be available.
The entire wood and furniture industry meets from 11th  to 14th September 2018 in Poznań at DREMA / FURNICA / SOFAB. Feel invited!