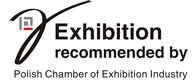 Technologies of tomorrow become a reality – summary of DREMA 2017 fair
Poland has been called the wood and furniture trading power. This fact has been confirmed during this year's edition of International Trade Fair of Machines and Tools for Wood and Furniture Industries DREMA 2017, which in terms of the comprehensive exposition, quantity of exhibitors and presentations of the most cutting-edge solutions for the wood processing sector was a real record!
On 12-15 September 2017 the premises of Poznań International Fair became a large international presentation space of the industrial accomplishments, where the domestic and international leaders demonstrated technological innovations used in the forest, wood and furniture industry and cooperating sectors. At the fair one could see almost 50 new products, 11 MTP Gold Medals were awarded, a premiere of the movie "Polish Wood" was held and the visitors could use the dedicated mobile phone app DREMA App. 7 exhibition halls and the open air area were vibrant with life and full of modern machines, innovative products and improved solutions which significantly enhance the quality and efficiency of work and contribute to competitiveness of companies from the industry and economic momentum.
- In recent times the world has become smaller and Poland has gained importance. Our furniture and wood sectors have their place in the European, and even the global lead, therefore the demand for a high-tech machines is very high - stresses Marek Kot who represented IMA Schelling Group.
The arena for leaders
During the four days of Drema 2017 one could check the offer of all companies that are valued in the wood and furniture industry. Poznań has been attracting market leaders for years and each year the fair exposition is wider and the stands are bigger and more impressive. This year's edition of the fair turned out very successful – at the exhibition area of 23 600 m2, their presentations held more than 380 exhibitors and the premises of Poznań International Fair was visited by a total of 15 800 participants of DREMA FURNICA SOFAB fairs. Together with the concurrently held International Trade Fair of Components for Furniture Production FURNICA and International Trade Fair of Upholstery Fabrics and Components for Upholstered Furniture SOFAB, at the exposition their innovative offer presented in total more than 500 companies and brands from 25 countries: Austria, Belgium, China, Czech Republic, Denmark, France, Spain, the Netherlands, Canada, South Korea, Lithuania, Germany, Norway, Poland, Romania, Serbia, Slovakia, Switzerland, Sweden, Taiwan, Turkey, Ukraine, the United Kingdom and Italy.
- Our stand is by 200 m bigger than last year and the whole fair event has become bigger: there are more halls, more exhibitors, stands are more impressive, we think that the fair was really good. All newly established contacts and those with our current customers are very promising. We are very happy to have our stand at DREMA and we cannot imagine not to be here – this is how the DREMA 2017 fair was summarized by Damian Bizoń from Felder Group Polska.
The power of associations!
The prestige of DREMA fair is confirmed by the fact that this is the only industry event in Poland and one of the several dozen in the world supported by the European Federation of Woodworking Machinery Manufacturers EUMABOIS. Close cooperation with the leading associations from the wood and furniture sectors (Association of Manufacturers of Machinery, Devices and Tools for Wood Processing DROMA, Polish Economic Chamber of Wood Industry, Association of Polish Parquet Floors Fitters, Association of Wood Based Panels Producers in Poland, Polish Chamber of Commerce of Furniture Manufacturers) allowed to prepare an attractive both in visual and content-related terms 4 day meeting for the representatives of a broadly understood wood processing and furniture producers industry. Furthermore, this year's edition of Drema 2017 fair was covered by the Honorary Patronage of the Ministry of Development.
- This industry requires more and more advanced technologies and machinery. As Polish producers we are trying to face those challenges, the challenges – that have also been set by the global trend. In DREMA fair participate world leaders when it comes to suppliers of technology, machines and tools for wood processing. And in order to meet those challenges and keep up with the competition, we also have to grow, have to look prospectively and implement the latest construction and technological solutions in our companies – says Andrzej Półrolniczak, President of the Management Board of the Association of Manufacturers of Machinery, Devices and Tools for Wood Processing DROMA.
Promotion of wood
The idea of Wood Promotion Pavilion, started during the previous edition of the fair, was continued also this year and at a way greater scale. Its aim was popularization of companies and institutions operating in the wood and furniture sector. The guests present at the DREMA fair had an opportunity to learn about the activity of e.g.  international industry associations (AHEC – American Hardwood Export Council, Malaysian Timber Council, Föreningen Svenskt Trätekniskt Forum, QWEB – Quebec Wood Export Bureau and Moelven from Norway), thanks to which this edition of the Wood Promotion Pavilion had a strong international character and allowed the visitors to acquire knowledge about foreign markets and establish prospective business contacts. A very interesting part of the Wood Promotion Pavilion were presentations of ways for fighting smog and promotion of a clean combustion of a wood-originating biomass demonstrated by the Anti-smog Committee.
- Wood companies with headquarters in Poland can process almost any amount of wood. And this is our biggest challenge – continuous supply, regularity and obviously, the price – that was the goal set for the Polish Economic Chamber of the Wood Industry by the Marketing Director - Rafał Szefler.
The idea above all
Apart from the abundant exhibition offer, the power of International Trade Fair of Machines and Tools for Wood and Furniture Industries DREMA was reflected in the idea of meetings, business discussions and exchange of experiences. They were accompanied by numerous events – 11 special zones, which included: operating action factories DREMA for Children and Seniors, Parquet Floor Zone, Knowledge Zone, Design Zone, B2B Conversation Zone, Varnishing Skill Presentation Zone, forklifts shows, log cutting shows, Anti-smog Committee, Conjured of out Wood, Championships of Poland in Driving Nails. This year's charity event Drema for Children and Seniors was exceptional – during the DREMA 2017 fair a total of 15 furniture sets were produced for children and seniors which were given to Caritas of Poznań Archdiocese and will be delivered to the facilities in biggest need. It is also worth mentioning the new project – Design in Wood. This is the zone which occupies approximately 300 m2, developed in cooperation with the partners: Incubator InfoTEC and brand Pla[y]wood, Kronospan Szczecinek with the Textile Design Department of Koszalin University of Technology, Handicraft, Jagram, Wiązary Burkietowicz and the Polish Economic Chamber of Wood Industry. The Design Zone was created to support designers and people with passion in promoting extraordinary ideas and solutions. During DREMA fair one could admire creative installations and an exhibition of over 50 pieces of unique exhibits – furniture and everyday objects – made of wood. This project made a positive impression on visitors of the fair and attracted huge interest.
Already today we invite everyone to the next edition of DREMA fair, which will be held in 11-14th of September 2018 in Poznań, Poland.