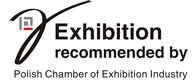 REGISTER A CO-EXHIBITOR AT DREMA FAIR!
Dear Ehxibitor! You have only one month left to attend the biggest event bringing together wood and furniture industry leaders in Poland and Central-Eastern Europe – DREMA Fair, 12-15th of September 2017, Poznań, Poland!
WE WOULD LIKE TO REMIND YOU, THAT YOU CAN REGISTER A CO-EXHIBITOR AT DREMA.
Co-exhibitor package of additional services:
promotion among Drema Fair visitors
participation of two co-exhibitor's representatives in an evening meeting of the industry and in other open fairaccompanying events
exhibitor cards allowing co-exhibitors to enter fair premises
40 invitations for fair guests
wireless access to the Internet during the fair and stand assembly/disassembly work, valid for up to 7 days
co-exhibitor's liability insurance (tort and contract liability)
co-exhibitor's entry (business name, address and contact details) in the "Alphabetical Directory of Exhibitors" in the catalogue (Visitors Vademecum) and on the Internet
Infocredit report about 2 companies from our database
Registration only through Exhibitor Zone - >>Join on-line!