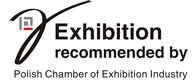 DREMA Fair 2018 again on the EUMABOIS world list!
In Hamburg City in Germany, deliberates Congress of the European Federation of Woodworking Machinery Manufacturers EUMABOIS. Congress approved today the list of the worlds' exhibition of woodworking machines, which officially will endorse in 2018. Among the 15 global expositions entered again DREMA!
International Trade Fair of Machines and Tools for Wood and Furniture Industries DREMA, organized in Poznań, Poland, is already mentioned with the most important wood industry Trade Fairs in the world. The European Federation of Woodworking Machinery Manufacturers EUMABOIS decided once again to qualify DREMA Fair to Trade Shows list, which are recommended members of the Association for the year 2018!
Polish delegation is represented by the DROMA Association of Manufacturers of Woodworking Machinery, Devices and Tools, composed of Andrzej Półrolniczak and Tomasz Kobierski.
This is a huge distinction that significantly elevates the prestige of DREMA, thus giving our Lenders, Exhibitors and Visitors a much greater opportunity to reach the international environment and to establish business contacts with representatives of the broadly understood wood and furniture industry from around the world.
EUMABOIS is a non-profit organisation, aimed at promoting the European woodworking machinery industry, protecting its business interests and dealing with all matters of relevance to its members. Technical, marketing and fair policy issues are among the main tasks of the Federation. Eumabois plays a major role in the international market, hosts qualified experts to address technical and economical problems, and has created an information and interaction network involving the most experienced entrepreneurs in business.
We would like to invite you to the next edition of DREMA Fair, which will take place from 18-21 September 2018 in Poznań, Poland.