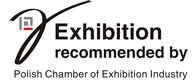 08.08.2018
The editorial staff of Lakiernictwo Przemysłowe and the Poznań International Fair would like to invite you to the Varnishing Skills Trainings during the Drema trade fair. This interactive exhibition of surface treatment equipment and wood varnishing products is the only event where modern solutions can be tested in practice.
06.08.2018
We have noticed a record number of entries in Gold Medal Competition DREMA 2018! During DREMA 2018, you will be able to see innovative products and solutions for up to 16 winners! Congratulations! If you want to get to know those products and solutions, just feel invited and come to Poznań for the DREMA fair - September 11-14, 2018.
25.07.2018
Take care of promoting your products – till 27th we are waiting for registration in gold medal competition and new products. It's worth bragging about your innovative solutions and new products on the market. Therefore, do not hesitate and take part in the Gold Medal Competition as well as submit your premiere products. The International Trade Fair of Machines and Tools for the Wood and Furniture Industries DREMA is an excellent opportunity to present the latest achievements among professionals in the wood and furniture industries.
24.07.2018
Polish Economic Chamber of Wood Industry and Poznań International Fair invite for B2B Wood Meetings, which will be held during DREMA Fair, on the 12th - 13th of September 2018, in Poznań, Poland.
23.07.2018
Aiming to keep up with the changes resulting from the development of the economy and, consequently, to be in line with the idea of Industry 4.0, which has already established itself in the minds of Polish and world entrepreneurs, it is unavoidable to invest in innovative technologies and modern machinery. Each year, Poznań becomes the hub of the wood and furniture industry for four days, and DREMA International Trade Fair of Machines and Tools for the Wood and Furniture Industries marks the changes, trends and direction in which the industry is heading. A good streak in the wood and furniture sectors announces a dynamic development of this year's DREMA 2018 trade fair, which promises a new record in terms of a comprehensive exhibition, the number of exhibitors and presentation of the latest solutions for the woodworking industry!
17.07.2018
Dear Ehxibitor! You have only two months left to attend the biggest event bringing together wood and furniture industry leaders in Poland and Central-Eastern Europe – DREMA Fair, 11-14th of September 2018, Poznań, Poland!
16.07.2018
The Gold Medal is an expert recommendation and in selected cases also consumer recommendation for the prize-winner products and services. It is worth to submit your products today and join the elite group of winners of this prestigious award!
28.06.2018
83% of fair visitors are coming to see market novelties! Surprise them with something new! International Trade Fair of Machines and Tools for Wood and Furniture Industries DREMA is the best place to show and promote new products on the polish market!