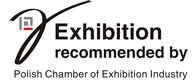 11.09.2018
Kayalar Kimya's growth strategy is based on a mission that focuses on innovative products and services as well as having fast and flexible action taking capabilities and being open to global markets. Founded in 1976, Kayalar Kimya provides a stable and reliable production environment of total 59,000 m2 area in Turkey and in Spain, equipped with the state-of-the-art technology and cutting edge automation system.
30.08.2018
IMAS AEROMECCANICA SRL will participate in the Drema 2018 exhibition (11-14 September in Poznan Poland) in Hall 6 Stand 17/15. Company's staff will be at your complete disposal for any information.
27.08.2018
DREMA 2018 will feature a series of attractive shows and workshops devoted to "Furniture for children made of blocks" and arranged by Okoń Parkiety Tradycyjne i Pałacowe. An area of nearly 100 m2 will be given to the fair participants, who will have 5 thousand blocks made of 100% real wood at their disposal (post-production waste). They will use them to create furniture, lamps and toys for children within the DREMA DESIGN zone. All objects made of wooden blocks at the fair will be donated to children within the DREMA FOR KIDS benefit program.
23.08.2018
Poland is currently the largest producer of wooden flooring, HDF/MDF boards and garden equipment, as well as the fourth producer of furniture, the second producer of chipboard and the eighth producer of timber in the EU. Many sectors of industry, including wood, pulp and paper and furniture, depend to a large extent on forest resources and their efficient exploitation for their development. Woodland in Poland amounts to 29.5%, and the higher the rate of obtaining raw material, the more dynamic the economic progress.
20.08.2018
It is at the DREMA International Trade Fair of Machines and Tools for the Wood and Furniture Industries where the State Forests will showcase two exhibitions: "Natural wealth of forests of Subcarpathia and the Bieszczady" as well as "FOREST". At their stand, they will provide information on timber construction at the State Forests. Additionally, visitors will have an opportunity to taste products labeled as "Goods of the Forest" on a selected day.
15.08.2018
Traditionally, the Drewno.pl portal will arrange a Knowledge Zone during the upcoming DREMA trade fair, where you will be able to familiarize yourself with the offer of entities that operate in the industry. This year we will focus on Knowledge, Education and Consulting.
13.08.2018
DREMA FOR KIDS is a unique project, combining a charitable goal with an accompanying educational space, which will allow the guests to get familiar with the technological side of the furniture manufacturing process. Halls 5 and 6 of the Poznań International Fair will once again be modelled as live factories where modern technologies and machines for woodworking will be presented.
10.08.2018
DREMA is a place where wood and what can be made out of it is promoted. In order to show how many applications this natural material has, a special space - DREMA DESIGN - will be prepared as part of the Wood Promotion Pavilion in Hall 3.