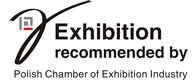 18.04.2019
May the Easter time be filled with all colors of the rainbow, spring-like atmosphere and smile, and may it be a break from everyday life.
30.10.2018
The DREMA International Trade Fair of Machines and Tools for the Wood and Furniture Industry is one of the world's leading exhibitions dedicated to the woodworking industry. According to the 2018 VDMA-Auma figures presented at this year's meeting of the Eumabois Federation in Istanbul, DREMA took the fifth place in the ranking of the best world exhibitions, alongside German LIGNA, Italian XYLEXPO, American IWF Atlanta or Chinese WMF Shanghai, thus becoming a serious player in the global exhibition elite.
28.09.2018
The 2018 DREMA was a record-breaking event - 389 exhibitors from 19 countries - 289 from Poland and 100 from abroad - showcased their products on an exhibition area covering 25,400 m2. During the four days, the exhibition halls occupied by DREMA, Furnica and SoFab were visited by a total of 16,600 professionals from the wood and furniture industries. Thanks to the impressive array of exhibits including lots of brand new offerings and an attractive program prepared in cooperation with the fair's patrons and partners, DREMA 2018 gathered a lot of positive feedback from the visitors.
21.09.2018
The 2018 DREMA International Trade Fair of Machines and Tools for the Wood and Furniture Industries proved highly successful. The fair's well-prepared exhibition of modern technologies, machines and tools for the wood and furniture industries as well as a number of accompanying events attracted a lot of specialists from the woodworking sector who decided to come to Poznań. A very successful fair - that was the phrase heard at the majority of the fair stands!
11.09.2018
Kayalar Kimya's growth strategy is based on a mission that focuses on innovative products and services as well as having fast and flexible action taking capabilities and being open to global markets. Founded in 1976, Kayalar Kimya provides a stable and reliable production environment of total 59,000 m2 area in Turkey and in Spain, equipped with the state-of-the-art technology and cutting edge automation system.
30.08.2018
IMAS AEROMECCANICA SRL will participate in the Drema 2018 exhibition (11-14 September in Poznan Poland) in Hall 6 Stand 17/15. Company's staff will be at your complete disposal for any information.
27.08.2018
DREMA 2018 will feature a series of attractive shows and workshops devoted to "Furniture for children made of blocks" and arranged by Okoń Parkiety Tradycyjne i Pałacowe. An area of nearly 100 m2 will be given to the fair participants, who will have 5 thousand blocks made of 100% real wood at their disposal (post-production waste). They will use them to create furniture, lamps and toys for children within the DREMA DESIGN zone. All objects made of wooden blocks at the fair will be donated to children within the DREMA FOR KIDS benefit program.
23.08.2018
Poland is currently the largest producer of wooden flooring, HDF/MDF boards and garden equipment, as well as the fourth producer of furniture, the second producer of chipboard and the eighth producer of timber in the EU. Many sectors of industry, including wood, pulp and paper and furniture, depend to a large extent on forest resources and their efficient exploitation for their development. Woodland in Poland amounts to 29.5%, and the higher the rate of obtaining raw material, the more dynamic the economic progress.