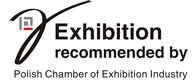 GMC Application form
SUBMIT YOUR PRODUCT FOR MTP GOLD MEDAL AWARD IN THE EXHIBITORS ZONE!
We are waiting till 27.07.2018 r.
The Medallist Package is a set of promotional materials and benefits from MTP, addressed to companies that have won the Gold Medal for their registered product. The Package includes standard BTL materials in print version, files and projects in an electronic form for further use and selected PR and advertising services  >> WINNER'S PACKAGE
>>Join the competition through Exhibitors Zone!
You should apply  via  Exhibitor Zone https://strefawystawcy.pl/en/
Exhibitor Zone –  SHOP → choice the fair → choice the CONTESTS
if you want to apply with more products, for each one should be placed a separate order.
The application will be accepted by the DREMA/FURNICA/SOFAB team. The position of this order should be available in the "Active orders" tab.
From this moment, you can edit this application. For this purpose, you have open one by one and clicking on the orange beams - example below.
If you require any additional information, please do not hesitate to contact MTP Coordinator.