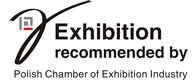 Opening hours for visitors
Tuesday (11.09): 9:00 - 17:00
Wednesday (12.09): 9:00 - 17:00
Thursday (13.09): 9:00 - 17:00
Friday (14.09): 9:00 - 16:00
Opening hours of the ticket offices
Tuesday (11.09): 8:30 - 16:30
Wednesday (12.09): 8:30 - 16:30
Thursday (13.09): 8:30 - 16:30
Friday (14.09): 8:30 - 15:30
Ticket prices
Student ticket for organized school groups***: 15,00 PLN
Multi-entrance ticket for the general public (no registration)**: 150,00 PLN
Single-entry ticket for the general public (no registration)**: 100,00 PLN
Multi-entrance ticket for professionals (after registration at www.mtp24.pl)*: 0,00 PLN
Multi-entrance ticket for professionals (after registration at the cash desk during the fair)*: 15,00 PLN
Information about tickets
* Registration involves filling out a registration survey (at the cash desk during the fair on the basis of business card or company stamp). Ticket for professionals only entitles to free re-entry into the fair.

To register are allowed those persons professionally connected with the wood industry (eg. wood processing, furniture, forestry, sawmilling) based on business card or stamp business. People outside the industry are invited to purchase tickets without registration.

** Tickets for the general public can be bought directly at the tills fair at the day of the event without registration.

*** Student ticket for organized school groups will be available at the tills fair on September 15, that is, on Friday, the last day of the fairs. This day is a day dedicated to students of schools of woodworking (forestry, carpentry, carpentry, etc.), both at the level of secondary schools, technical schools and universities.

ATTENTION! PLEASE RETAIN YOUR TICKET UNTIL YOU LEAVE THE FAIRGROUNDS!
Invoices
Invoice for ticket bought in the ticket office

You can obtain an invoice at invoicing desks in open entrance lobbies in the trade fair opening times upon presenting a purchase receipt.
Location
Available ticket offices:
Open entrances:
Available halls:
Międzynarodowe Targi Poznańskie sp. z o.o.
ul. Głogowska 14
60-734 Poznań
Car park
The Poznań International Fair, Ltd. offers a supervised car park (with 850 spaces) to its guests. It is located 350 m from the fairgrounds. Open 24 hours a day. Suitable both for cars and coaches. You can enter the car park through two gates: at Matejki Street (main gate - open throughout the year) and at Ułańska Street (additional gate - open only during large trade shows).
Prices of the PIF car park located at Matejki Street:
Single-track vehicle (motorbike, bicycle): 2,00PLN/h
Passenger car: 4,00 PLN/h
Delivery van, truck, bus, car with trailer: 8,00 PLN/h
Visitors section contact information
Barbara Kamińska

kom. +48 61 869 22 42
e-mail: barbara.kaminska@mtp.pl