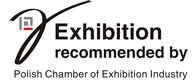 Top 8 tips for your visit
Take a look at our top 8 tips to making the most out of your trip to Poznań:
1. Make sure you register
By registering beforehand, you receive in the ticket office your free visitor's packet (multiple entry for the whole event, exhibitors' catalogue, catering,  useful information about the exposition and the city) so that you can avoid the queues. You save time and money.
2. Pick up a free exhibition plan
Make sure you pick up a free plan at an entrance of the Poznań International Fair .  It's essential for finding who is where in the exhibition, plus it means you can keep a track of which stands and special spaces  you have visited. You can find there some information about the accompanying events. You will also find 'You are here' boards dotted around the exhibition area, these will help with navigation.
3. Buy Internet access
We advise you to buy Internet access at an entrance. We offer you the Wi-Fi connection. It cost only 25 PLN –  6€ (3 hours), 40 PLN – 10 € (24 hours) and 85 PLN – 21 € (the whole event).
4. Make sure you have enough time for visiting
With more than 500 exhibitors, interesting events, special spaces and conferences you will need to allow yourself enough time to view everything. Most visitors find they need at least one full day to take it all in. The fair area is opened at 9.00 a. m. each day, closed at 5 p.m. on Tuesday, Wednesday and Thursday, and 4 p.m. on Friday.
5. Book your travel and accommodation
Visit our website www.mtp.pl, then pick the the 'TRAVEL' option (to get the information about the access to Poznań) and the  'HOTELS' option (to book your hotel through our chosen reservation agency). You should find a huge range of accommodation to suit every budget.
6. Do your homework
Visit our websites (www.drema.pl, www.furnica.pl), in the exhibitors' catalogue find the location of companies you are interested in. Check the programme of events to attend most suitable for you.
7. Take a break
Visiting the exposition can be a tiring process, so make sure you take breaks at one of the many restaurants or REST&MEET POINTS on offer at fairground. It also gives you a chance to plan who to visit next.
8. Take note of the trends and business tips
Poznań International Fair offers visitors a superb line-up of trend presentations and business seminars. It's the ideal place to be inspired by the best in the industry.