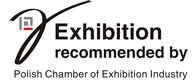 Acanthus Aureus Competition

The Acanthus Aureus Awards are traditionally presented at trade shows organised by the Poznań International Fair. According to many of our partners, the organisation of the competition should undergo some crucial changes after so many years. We would like to inform you about the following rules for the Acanthus Aureus Competition:
awards will be presented to exhibitors,
awards will be presented for the best reflection of the company`s marketing strategy in the trade fair exposition,
exhibitors will register to enter the competition,
entry into the competition will be free of change,
once a year, according to a ranking list on PIF websites, special Acanthus Aureus Awards will be presented to designers and stand constructors whose stands have received the largest number of Acanthus Aureus Awards in a given year.
Documents:
Contact:
Anna Smolińska
tel. +4861 869 21 09
e-mail: anna.smolinska