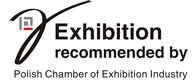 B2B WOOD MEETINGS DREMA 2018 lp
Polish Economic Chamber of Wood Industry and Poznań International Fair invite for  B2B Wood Meetings, which will be held during DREMA Fair, on the 12th - 13th of September 2018, in Poznań, Poland.
The first edition of the cooperation Meetings - B2B Wood Meetings 2018 will take place in September in Poznań during Drema Fair 2018. The event was organized in cooperation with the Poznań Science and Technology Park, Polish Economic Chamber of Wood Industry, Poznań International Fair and partners of the Enterprise Europe Network (EEN). It is aimed primarily at enterprises operating in the wood processing industry and the production of machinery, equipment and tools used for its processing. The subject matter of the event may also be intersting for traders from the wood materials sector and scientists who want to broaden their knowledge, among others about certification.
Brokerage event B2B WOOD MEETINGS is an efficient way to reach and verification of new business contacts. It's also an effective way to match suppliers of raw materials and semi-finished products with buyers looking for outsourcing, in wood processing branch.
Searching for offers and arranging a meeting with the ordering parties is possible via the b2match on-line platform >> https://b2b-wood-meetings-2018.b2match.io. Each participant must first register, define their business profile and the type of cooperation they would like to establish. This makes it possible to specify expectations and make an appointment with a potential partner ahead of the fair. 30-minute-long meetings held in person take place on the second and third day of the trade shows, i.e. 12th and 13th September 2018. The matchmaking meetings are a proven and effective method of establishing prospective contacts between offering parties and buyers.
CHECK HOW IT WORKS
1. Register and present Your offer or request
2. Choose potential partners
3. Meet them on B2B Wood Meetings
Areas of activity
Softwood timber and other wood products
Hardwood products and other wood product
Firewood, briquette, pellets
Pallets and elements of pallets
Machines, equipment and tools for wood processing
Trade in wood materials, roundwood – Wood materials and roundwood trade
Research and development, certification, design services, consulting
B2B WOOD MEETINGS | 12-13.09.2018 | Poznań, POLAND
Barbara Kamińska | Coordinator of Meetings | +48 61 869 22 42 | barbara.kaminska

The entire wood and furniture industry meets 11-14/09/2018 in Poznań at the DREMA / FURNICA / SOFAB fair.
Feel welcome!