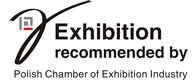 11.09.2018
Kayalar Kimya's growth strategy is based on a mission that focuses on innovative products and services as well as having fast and flexible action taking capabilities and being open to global markets. Founded in 1976, Kayalar Kimya provides a stable and reliable production environment of total 59,000 m2 area in Turkey and in Spain, equipped with the state-of-the-art technology and cutting edge automation system.
30.08.2018
IMAS AEROMECCANICA SRL will participate in the Drema 2018 exhibition (11-14 September in Poznan Poland) in Hall 6 Stand 17/15. Company's staff will be at your complete disposal for any information.
27.08.2018
DREMA 2018 will feature a series of attractive shows and workshops devoted to "Furniture for children made of blocks" and arranged by Okoń Parkiety Tradycyjne i Pałacowe. An area of nearly 100 m2 will be given to the fair participants, who will have 5 thousand blocks made of 100% real wood at their disposal (post-production waste). They will use them to create furniture, lamps and toys for children within the DREMA DESIGN zone. All objects made of wooden blocks at the fair will be donated to children within the DREMA FOR KIDS benefit program.
More news
---

Next edition: 11-14.09.2018
DREMA is once again on the list of 15 largest world exhibition, supported by the European Federation of Woodworking Machinery Manufacturers !
_________________________

DREMA is the largest exhibition of wood industry in Central-Eastern Europe