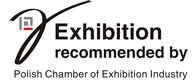 Invitation letter to DREMA Fair 2017
Dear Sir or Madam,
In my own name and on behalf of the DREMA team and our partners I would like to invite you to participate in the International Trade Fair of Machines and Tools for Wood and Furniture Industries DREMA, an event for sharing knowledge and experience, an opportunity to have business talks and start cooperation with new partners. The forthcoming edition will take place 12-15 September 2017 at the Poznań International Fair. The four-day event, gathering woodworking and furniture professionals, attracts crowds of visitors from around the world who are looking to invest in top-of-the-league technologies, machines and materials.
The DREMA Fair is the largest event for the woodworking sector in Poland and Central-Eastern Europe. Thanks to its comprehensive exposition, up-to-date conferences and special zones, the fair has become a crucial tool for building a competitive advantage on both the domestic and foreign markets. Its prestige is proven by the fact that it is the only event in Poland and one of only several sector-related events worldwide to have gained the support of the European Federation of Woodworking Machinery Manufacturers EUMABOIS.
The fair's main objective is to promote innovative technologies and solutions, the latest machines and tools and to allow woodworking and furniture producers to transfer the latest knowledge and support. Thus, your company will have a chance to present its latest products, compare its offer with other companies on the market, get inspired and find out the latest trends, which should all boost its image and intensify its business activities.
Along with the fair's business aspect, the DREMA fair is also a venue for various social initiatives. An essential part of the DREMA fair is the Wood Promotion Pavilion and project known as "Drema for Kids and Seniors." It is a one-of-a-kind idea dedicated to a good cause including a demonstration of the potential of woodworking machine and tool producers. There will be a chance to observe the competitors over the four days. As a result, complete sets of furniture for children and seniors will be produced and thanks to Caritas of the Poznań Archdiocese the furniture will be given for charity purposes, the most needy orphanages and residential homes. You may contribute to the project together with us!
In addition, the DREMA fair is aimed at integrating woodworking and furniture representatives, on both local and international scale. Owing to close cooperation with the most important professional chambers and associations, the fair is a venue where the woodworking sector potential and the legacy of furniture producers are presented. On top of that, it concentrates on discussing current issues and determining the future development of your company. You must be here!
Feel invited and see you in Poznań in period 12-15 of September 2017!
Andrzej Półrolniczak
Director of DREMA Fair