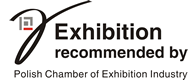 10.08.2017
MASCOT revolutionises the workwear industry with the launch of three trousers and a ¾-length trouser, all with four-way stretch. But, not just stretch! High durability, an innovative kneepad pocket design and excellent freedom of movement are also integrated.
07.08.2017
Dear Visitors! Please check the terrain map out, where are located all trade fair projects, which will take place between 12 and 15 of September 2017 at the Poznań International Fair pavilions: DREMA, Furnica and SoFab. This year the exhibit of the events is going to be really impressive.
04.08.2017
Innovation, high quality materials and excellent parameters of the products were the main criteria taken into account when granting awards.
04.08.2017
A new procedure applicable to the stand construction was launched in 2017.
02.08.2017
The WoodBusinessportal.com – the online international market for wood industry, has launched a questionnaire on various industry-relevant topics. The issue has a clear purpose: to give "wood market players" the opportunity to express their opinions in a more or less public context, hoping that they matter to those able to contribute to the improvement of the wood industry, of the industry in general.
31.07.2017
In the time of the Internet expansion, the fair still remains one of the most effective tools for marketing, sales and networking. The fair's business character, talks with clients and live demonstrations – these are just some of the possibilities offered by DREMA, and there's more!
26.07.2017
If your products, deserve this prestigious award, fight for gold and take part in the competition. Registration deadline is only till 28th of July 2017!
17.07.2017
See who will during the last year's edition of DREMA Fairs received this exceptional award and what kind of benefits it entails to belong to the golden medalists elite! For applications we wait until 28.07.2017!