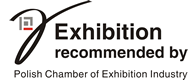 How to log in to the Exhibitors Zone?
DREMA - Technologies of tomorrow
We invite you to co-create with us the next edition of DREMA Fair, which will be held from 12th till 15th September 2017 at the Poznań International Fair.
From that place you will be redirected to the EXHIBITORS ZONE, a site that allows you registration for the DREMA 2017. Just click this link https://swdb.mtp24.pl/en/ to become part of the largest wood - and - furniture industries meetings in Central - Eastern Europe.
Stay with us!
If you have any questions, please contact:
Karolina Deja
Tel. +48 61 869 2455
Tel. kom. 691 029 827
e-mail: karolina.deja

Daria Maciejewska
Tel. +48 61 869 2265
Tel. kom. 691 027 596
e-mail: daria.maciejewska

See you soon at INTERNATIONAL TRADE FAIR OF MACHINES AND TOOLS FOR WOOD AND FURNITURE INDUSTRIES DREMA!