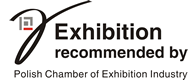 30.10.2017
We are presenting you with the latest interactive issue of Poznań Fair Magazine "Calendar of trade fair in 2018". It is absolutely unique publication onto polish market! We invite you to click!
24.10.2017
Product, reported by the company Tri D Corpus d.o.o., Croatia (submitted by: Lignumsoft Adam Wileński, Kobyłka), has won in the competition MTP Gold Medal - Customer's Choice in the area of DREMA Fair 2017 and scored 46,72 % votes in the ballot from all of the DREMA Fair visitors and Internet users. This award is a testimonial to the entire wood and furniture industries. It is also an important recommendation which can drive the decision of a potential customer.
18.10.2017
Technologies of tomorrow become a reality - this words are telling by the people, who took part in Drema fair 2017! We encourage you to watch this short film - DREMA 2017 video summary.
More news
---

Next edition: 11-14.09.2018
DREMA is once again on the list of 15 largest world exhibition, supported by the European Federation of Woodworking Machinery Manufacturers !
_________________________

DREMA is the largest exhibition of wood industry in Central-Eastern Europe