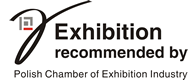 16.12.2016
We kindly invite you to visit Poznań International Fair! Here you will find business contacts, novelties and the chance to develop your passions. In the latest issue of Poznan Fair Magazine "Exhibition calendar 2017" we present trade fair events, organized by the International Fair for almost all industries.
22.11.2016
A meeting between the organizational committee of the International Trade Fair of Machines and Tools for Wood and Furniture Industries DREMA and the Exhibition of Woodworking Machines and Tools DREMASILESIA and the Polish Economic Chamber of Wood Industry took place on Thursday, November 17th.
15.11.2016
DREMA Fair from year-to-year become more and more prestigious trade show on the global scale, devoted to wood and furniture industries.7 pavilions pulsing with life, the large numbers of machines in motion and thousand of visitors only confirm the high reputation of this event. Take a look, how was the edition in 2016 and already reserve your time for Drema Fair next year ! See you on 19-22 September 2017 in Poznan!
More news
---

Next edition: 12-15.09.2017
DREMA once again on the list of largest world exhibition, supported by the European Federation of Woodworking Machinery Manufacturers !
_________________________

DREMA is the largest exhibition of wood industry in Central-Eastern Europe