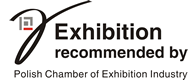 18.08.2016
Wood and furniture industries play an important role in Poland – wood industry generates over 2 % of the Polish GDP and also provides employment for over 300 thousand people. However, despite its good condition, this sector needs more inspiration and what follows - innovations, professionalization and good practices.
11.08.2016
New products are the source of technological development of wood- and furniture industries. Below we present you the list od new products, which you can see during Drema Fair 2016.
09.08.2016
Dear Exhibitors, please log in to the EXHIBITOR'S ZONE platform (www.strefawystawcy.pl). It is the only way to make the fair offer in the catalogue of the DREMA 2016. Entry should be done via EXHIBITORS' ZONE platform by logging in using login and password you have received from organizer via email.
More news
---

Next edition: 13-16.09.2016
DREMA once again on the list of largest world exhibition, supported by the European Federation of Woodworking Machinery Manufacturers !
_________________________

DREMA is the largest exhibition of wood industry in Central-Eastern Europe