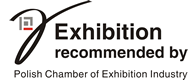 21.10.2016
Product, reported by the company SANTECH INNOVATIONS Ltd., Ireland (submitted by: ITA TOOLS Sp. z o.o., Kraków), has won in the competition MTP Gold Medal - Customer's Choice in the area of DREMA Fair and scored 47,03 % votes in the ballot from all of the DREMA Fair visitors and Internet users. This award is a testimonial to the entire wood and furniture industries. It is also an important recommendation which can drive the decision of a potential customer.
20.10.2016
Every year Drema Fair are visited by thousands of proffesional guests from all over the world, and during the show we are hosting so many exhibitors from circa 30 countries. Thanks to our partners we are able to create in Poznań, Poland, such an unique and professional event every time!
13.10.2016
DREMA 2016 once again have confirmed their position as the most important meeting place of the polish and world Wood and Furnicture industry. We are presenting the final report from this year's edition. In the transparent, graphic form you will find the most important Drema 2016 values. Enjoy reading!
More news
---

Next edition: 19-22.09.2017
DREMA once again on the list of largest world exhibition, supported by the European Federation of Woodworking Machinery Manufacturers !
_________________________

DREMA is the largest exhibition of wood industry in Central-Eastern Europe