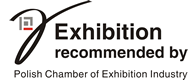 12.07.2016
All amateurs of modes of water transport as well as products made of wood will be able to experience a great attraction during this year's Drema! In Pavilion 3 during 4 trade fair days, you will have an opportunity to see both the replica of a barge from the 15th Century as well a photo exhibition prepared by a traveller and sawmill worker- Wacław Witkowski.
07.07.2016
Drema for Children – is an idea under which are held two events: Furniture Factory Live and Polish Furniture Factory. Laudable aim of the participants as well as the fact that all manufactured products are given for charity purposes make the Drema for Children project receive a unique character and attract a lot of attention, both of companies, partners and participants themselves.
05.07.2016
A day before the beginning of International Trade Fair of Machines and Tools for Wood and Furniture Industries DREMA 2016, so on 12 September this year, on the initiative of the Polish Economic Chamber of Wood Industry, will be held yet the 4th edition of conference KOOPDREW. Slogan of this year's industry meeting is: "Wood – material of the 21st century – as the base of economic growth and development of sustainable forest management".
More news
---

Next edition: 13-16.09.2016
DREMA once again on the list of largest world exhibition, supported by the European Federation of Woodworking Machinery Manufacturers !
_________________________

DREMA is the largest exhibition of wood industry in Central-Eastern Europe